Newsletter January 2022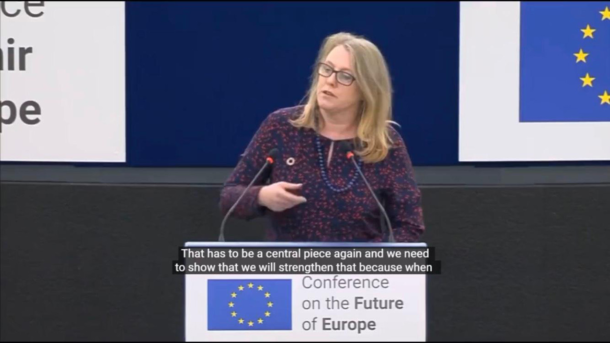 Dear Friends,
The last eighteen months have been very difficult for many. Yet even as we continue to navigate the daily challenges presented by Covid 19, another important conversation is also happening. A conversation about what kind of future we want to build together in our communities and on our planet. 
It is important that we learn from recent experience and do not slide back to an unsustainable and unequal business as usual. This is a chance to do things differently and better. 
Read more...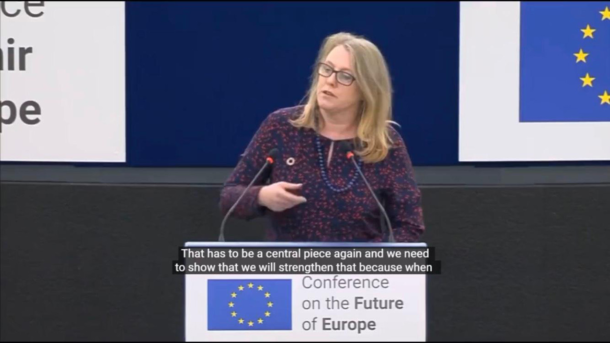 It is important that we learn from recent experience and do not slide back to an unsustainable and unequal business as usual. This is a chance to do things differently and better. 

The pandemic has, for example, shown us the importance of investment in social solidarity and public services. It has also shone a light on essential workers and the need to improve and even reimagine employment conditions. 

On an EU level, there is a recognition that past austerity contributed to vulnerabilities during the pandemic. New EU funding measures are encouraging stimulus and investment to strengthen public services and make countries more resilient to future challenges. The EU has also waived narrow fiscal rules, giving countries the space for ambitious public investment which delivers better value outcomes in the long term.

Ireland has the chance to build social houses rather than lease them, invest in new national childcare infrastructure, raise the bar for universal design and disability inclusion, massively accelerate retrofitting of public buildings and rewetting of boglands. We cannot afford to wait for market-led, for-profit, responses to these burning issues. This is a moment for creative public leadership and that in turn will open up future social and economic possibilities.

We need to combine urgent action with long term thinking, particularly when it comes to the climate and biodiversity crisis. Strong policies and proper resources are needed to drive rapid  transformation across many sectors, underpinned by just transition principles that support and empower workers and communities.

The UN is calling this the Decade of Action. By 2030, we can and must meet the emission reduction and climate justice commitments made in Paris, challenge inequalities within and between countries and deliver on the positive and practical vision set out in the Sustainable Development Goals. 

We are facing important decisions at every level and alongside my national legislative and policy work in the Seanad, I will be serving as one of four Oireachtas representatives in a special EU initiative to help shape the Future of Europe.

This newsletter contains information on how you can also help write the next chapter of our collective European future, along with other ways to take action, from national campaigns to local development  plans. I continue to be extremely honoured to represent you in the Seanad and particularly want to thank all those who reached out to share thoughts and insights throughout 2021.
With warm regards and best wishes for the year ahead!
Senator Alice-Mary Higgins

Climate Action
The urgent public demand for serious and rapid action on climate and biodiversity was loud and clear during the recent disappointing talks in Glasgow. The impacts of the twin crises of climate catastrophe and ecological collapse are being felt across our planet. There is no doubt that wealthier countries have damaged trust through their lack of solidarity on vaccines access and their failure to deliver climate funding commitments. There is also a frustration with attempts at corporate greenwashing - the transformation needed cannot be delivered through a rebranding of business as usual. It will require  public and political leadership.  
As a member of the Joint Oireachtas Committee on Environment and Climate Action, I engaged actively on pre-legislative scrutiny of the Climate Action and Low Carbon Development (Amendment) Bill and pressed for the inclusion of climate justice and just transition as well as minimum interim targets, because 2050 is too far away and it is what we do by 2030 that will matter most.
The Committee produced a report with strong recommendations, many of which were unfortunately not fully reflected in the final Bill. I did however win a few further small but significant amendments in the Seanad. Our legislation still has too many evasions and loopholes and the recently proposed carbon budgets still seem to be pushing emission reductions further into the future when we need urgent action now. Ireland is starting late and it should be starting stronger.  
I will continue to push for stronger action including earlier decarbonisation targets, a global ban on fracked gas, an accelerated exit from fossil fuels, major public investment in sectoral transformation, and ground up just transition to support communities and workers.

The definition of Climate Justice originally proposed in the Climate Bill was weak and damaging. With the support of many NGOs, I succeeded in removing weak and regressive language on Climate Justice from the Climate Act but I was disappointed that stronger wording was not included. Ireland now needs to prove its commitment to justice through concrete actions.
Data Centres 
Data processing happens in real places using real resources and there are serious concerns around data centres' energy consumption and data regulation. By 2030, data centres could be using 33% of Ireland's total electricity.

Earlier this year I made a submission to the Commission on the Regulation of Utilities (CRU), calling for a temporary moratorium on new data centres until Ireland completes an energy security review and the Environmental Protection Agency examines the implications for water supply and marine environment. I also led debate on the intersections between environmental regulation and data regulation. Not all data processing has the same public or personal value. Many countries are, for example, limiting energy-intensive cryptocurrency mining. How we approach digitalisation matters and I believe ethics, environment and empowerment must shape its future direction.
Trade without Dangerous Investor Courts 
In 2016, when I was elected to the Seanad, the first private members' motion I introduced called on the Government not to sign the Comprehensive Economic Trade Agreement (CETA) between Canada and the EU, until they saw the results of an important European court case on whether investment and trade components of treaties required different treatment. My motion was passed by the Seanad and as I predicted, the court decided that 'investment protections' did indeed need to be treated separately. As a result, while trade in goods and services under CETA is already happening since 2017 under 'provisional application', a separate ratification vote of the Dáil is required before investor courts can be introduced.

These are courts which allow investors to sue states for compensation when they feel that policies or regulations have an 'unfair' impact on their profits. Those compensation claims can amount to millions or even billions and there are examples across the world of the chilling effect such claims can have on legislation and regulation in areas like environment, health and employment. There is no timeline which requires us to ratify CETA and there are good reasons to delay, including a general trend for exclusion of investor courts from new international trade agreements. Thanks to a fast and firm political and public push back, an attempt last winter to push through a rushed ratification vote on CETA without proper scrutiny did not go ahead, and at least three parliamentary committees are now seeking to examine the implications of these courts.
 
The European Court of Justice recently ruled that similar investor cases being taken against countries by fossil fuel companies under the Energy Charter Treaty are incompatible with EU climate policy, however investor arbitration panels can choose to ignore EU court rulings. The EU Commission has indicated the main reason it hasn't already withdrawn from the Energy Charter Treaty is its 20 year exit clause. If we ratify CETA, as opposed to just continuing with provisional application, CETA would also have 20 year exit clause. I will continue to advocate against the undermining of good trade and public policy through the unnecessary inclusion of dangerous investor courts.

Higher Education for the Public Good 
Higher education must be treated as a public good which is accessible to everyone and must be central to our shared future. Over the past year, I have:
Advocated for increased public investment in higher education;
Campaigned for more public-public partnerships and publicly-led research including frontier research;
Co-sponsored legislation proposed by my colleague Senator Lynn Ruane to ban the use of non-disclosure agreements in cases of sexual harassment and discrimination in universities and other workplaces unless requested by the victim; and
Contributed to the SUSI grant review, with particular focus on support for those returning to education and removal of barriers around social welfare payments.
Spending Better 
My updated Quality in Public Procurement Bill – which would make 'price-quality ratio' the standard metric used in public procurement – passed second stage in the Seanad this year and will return to committee stage in early 2022. We have been gathering wide support for the legislation, engaging with groups such as SIPTU, Fórsa, the Small Firms Association, IBEC and the Royal Institute of Architects. We are now seeing momentum for my legislation which would ensure that we have quality at the centre of state procurement processes and that the Government spends better with public money.

On a European level, the suspension of EU fiscal rules is a recognition of the importance of public investment, particularly at a time of crisis. On the Oireachtas Committee on Finance and Public Expenditure and Reform I pressed for a stronger focus on EU Recovery and Resilience funding, which should be used for investment in public services and  infrastructure rather than short term or speculative projects.
UN Sustainable Development Goals 
The UN Sustainable Development Goals (SDGs) are a powerful, transformative and practical blueprint for better policies on equality, environment, society and economy. Ireland's second SDG National Implementation Plan is being written now. 

As Chair of the Cross Party Oireachtas Group on the SDGs, I have made a detailed submission to Government on the plan recommending stronger oversight and accountability and have also supported others across society to press for action.
Protecting Rights of Way 
For over a year I raised the alarm on a legislative clause in the Land and Conveyancing Act 2009 and 2013 which threatened to extinguish many private rights of way across Ireland. It stated that unless a private right of way or easement was officially registered before 30 November 2021, any previous years of usage would no longer count and the clock would reset to zero even on paths used for generations. I saw the legal confusion and damage to community, accessibility, heritage this could cause and engaged with Ministers, proposed amendments and introduced a Bill to extend the deadline by five years.  

Eventually, in response to my political pressure and advocacy from the Law Society, IFA and concerned citizens, the Minister did introduce legislation just in time to avoid a November 30th cliff edge. The Department also agreed to a deeper review next year and I will continue to engage on how these laws can  be improved to not only protect but improve old rights of way, actively linking them with public rights of way as new networks of connectivity in rural and urban areas.

Higher Education for the Public Good Public Housing on Public Land 
The crisis we see in housing is the result of years of over-reliance on the private market to provide homes. The State must become the leading provider of housing with a core strategy of building public housing on public land.
 
In debates on the Land Development Agency Bill, I urged the Government to learn from the mistakes of the past by avoiding the transfer of public land into private hands. Unfortunately, the Government did not accept my amendments to strengthen the voice of local authorities and ensure the State plays the key role in the ongoing long-term provision of social, affordable and cost rental housing on public land.
 
I have been a consistent advocate for public investment in social housing and measures which limit speculative inflation in the private market, highlighting, for example, the money wasted when local authorities have been forced to lease houses rather than buy or build them.
 
In debates on the Affordable Housing Bill, the Government rejected my amendments to ensure that land used for cost rental would ultimately remain in public ownership. However, I did win amendments to limit extortionate management fees in affordable houses or apartments and place a greater emphasis on diverse  and sustainable communities – including intergenerational urban communities. I will continue to advocate for public investment in social housing, especially at a time when the State has access to low-interest loans and international institutions are encouraging social expenditure towards a better future.
Women's Health & Reproductive Rights 
The new National Maternity Hospital must be fully publicly-owned on public land and truly be a 'national' maternity hospital directly run by the State. The current proposal to lease the land for the hospital for 99 years from a private trust, St. Vincent's CLG, would not be financially responsible and also raises concerns about the impact the ethos of this private trust could have on access to reproductive rights and delivery of  services. I will continue to advocate for full public accountability over the hospital and that reproductive healthcare is fully accessible for those who need or want it, now and in the future.

I have also been supporting the campaign for better maternity care and an end to inappropriate restrictions on hospital access for the partners of pregnant women, and I supported Deputy Ivana Bacik's Reproductive Leave Bill which would entitle workers experiencing a miscarriage to paid leave. As a member of the European Parliamentary Forum for Sexual and Reproductive Rights, I have continued to advocate in solidarity with others across the world from Poland to Afghanistan to the United States. As a member of the Oireachtas All Party Group, I will be paying careful attention to the review of Ireland's Termination of Pregnancy legislation this autumn.
In the Media
"Yet again, Alice Mary Higgins blows away the opposition with her prodigious work rate and high-quality, well researched contributions. She contributes to debates on a wide range of bills – correcting, amending and commenting. "She was absolutely outstanding," said a colleague. "She saw the global picture, knew her subject inside out, was detailed and logical and spent hours in the chamber." Miriam Lord's Dáilympics  (Irish Times, 24/7/2021)

"Alice Mary Higgins, independent senator and member of the Oireachtas climate committee, said that when the carbon budgets were finally published, they needed to front-load action in the first five years. We need to see that flight path and we need to see significant action start to happen in the first budget," she said, emphasising that the longer climate action is put off, the harder it will be." Interview on the Climate Bill  (Business Post, 25/7/2021)

"When corners are cut on procurement, that can have a  very real, sometimes devastating, impact on individuals, families and communities. However, when we put thought and care into improving the quality of public goods, services and infrastructure, that can make a truly transformative and positive difference to all our daily lives."  
Extract from op-ed on my Public Procurement legislation  (TheJournal.ie, 24/3/2021)

"If public land is made available for the purposes of cost rental, I believe that that should revert to public ownership after the period of time. Even if those homes or land aren't needed for cost-rental homes in 100 years' time, maybe the land is needed for something else – a hospital, energy needs, or childcare spaces. We need to plan for future generations."
Quote from interview on the Affordable Housing Bill  (Dublin Inquirer, 30/6/2021)

"The opposition to a waiver from the European Commission on behalf of the European Union is now very much a minority position and has been internationally criticised as contributing to the unnecessary prolongation of the pandemic and undermining the social and  economic sacrifices so many have made in an effort to end this pandemic."
Extract from Irish Times letter, co-signed by members of the Dáil and Seanad, calling on the Government to support a TRIPS waiver on COVID-19 vaccine technology  (23/7/2021)

The Next Chapter for Europe
Over the next six months, a very important conversation is happening about the Future of Europe and everyone should be involved. There is discussion on themes like social justice,  climate, human rights, economy, democracy and our role in the world. This conversation will include parliamentarians, and I am honoured to be one of the four chosen from Ireland – but it is also driven by citizens and the more people who get involved the better.

There are lots of ways to participate, both in person and online. Learn more at www.futureu.europa.eu and I welcome your thoughts and ideas at alicemary.higgins@oireachtas.ie. This is our chance to shape the next chapter and I will be advocating for an EU that places equality, peace, sustainability and social and economic justice at the centre of our collective future.
Local Area Plans
Did you know many new Local County and Area Plans are presently being drafted in different parts of the country? They are an important opportunity to help shape the future of places we share and live together. These plans set out the vision and objectives for planning and development in a specific area for the coming years along with rules and standards for conservation or building. They also include maps proposing the zoning of different areas for various kinds of use. They can set the agenda for lots of crucial decisions in terms  of public infrastructure, facilities and amenities, natural heritage, disability access, intergenerational public space, sustainable cities and communities and so much more.  I strongly encourage everyone to look at their local area draft plan and have their say! To find out more contact your city or county council office.

Global Access to Vaccines
The only way to face a global pandemic is by working together. Unfortunately, there has been a major failure of solidarity when it comes to global vaccine access. We know that delays in the rollout of vaccination can contribute to the new variants emerging. As Omicron now sweeps through society, imagine how it would feel if only 10% of the population and just  27% of health workers in Ireland were vaccinated? That is the reality being faced in many African countries at the moment. Poorer countries have been forced to wait longer for vaccines and are not being allowed to produce their own generic versions. 
The EU Commission, including Ireland, is blocking a crucial temporary waiver of intellectual property restrictions on Covid 19 vaccines which would allow a massive scale up in global manufacture and accelerate access to vaccines for millions around the world. This TRIPS waiver has the support of over 100 countries, the WHO, UNAids, international NGOs, academics and public health experts, including the Royal College of Surgeons in Ireland, and over two million nurses. It is the right thing to do from both a moral and practical perspective.  We need to prioritise public health over the profits of a few, particularly when public money supported so much of the Covid 19 vaccine development.
I spoke at the launch of the People's Vaccine Alliance and raised this urgent issue many times throughout the year. In December, I brought a motion to the Seanad calling for Ireland to publicly support a TRIPS waiver. Following a passionate debate, a Government amendment was withdrawn and my motion successfully passed with support from Senators from all sides of the chamber, sending a clear signal the Seanad believes Ireland must take a stand and call on the EU to support a TRIPS waiver at the next meeting of the World Trade Organisation. 
The Seanad Civil Engagement Group

The only way to face a global health crisis is by working together.  Unfortunately, there has been a failure of solidarity when it comes to global vaccine access. The EU Commission, including Ireland, is still blocking a temporary waiver of intellectual property rights on Covid 19 vaccines which would support a massive scale up in global manufacture and accelerate access to vaccines for millions around the world. This TRIPS waiver has been proposed and supported by over 100 countries.
 
We need to prioritise public health over the profits of a few, particularly when public money supported so much of the Covid 19 vaccine development. The longer we delay, the greater the likelihood of new variants emerging. We also need to ensure that the vaccines already manufactured are not monopolised by wealthy countries while healthcare workers on the global frontline are left in danger.  

I am proud to lead the 'Civil Engagement Group' of progressive independent Senators including Senator Lynn Ruane, Senator Frances Black and Senator Eileen Flynn. Over the last year we have been building on our work in the last Oireachtas and championing new and important issues.  

Our Quality in Public Procurement Bill and Non-Disclosure Agreement Bill have passed second stage in the Seanad and our proposed legislation on a Deportation Moratorium led to a change in public policy. Senator Ruane's Criminal Justice (Rehabilitative Periods) Bill, which promotes a fairer approach to spent convictions, has now passed the Seanad and gone to the Dáil. Our Traveller Culture and History in Education Bill, which former Senator Colette Kelleher brought through to the Dáil, has now passed second stage there. We will also continue to press for progress on our Family Reunification Bill and Occupied Territories Bill which remain on the Dáil order paper and are more necessary than ever.