Senator Alice-Mary Higgins launches new 'Quality in Public Procurement' Bill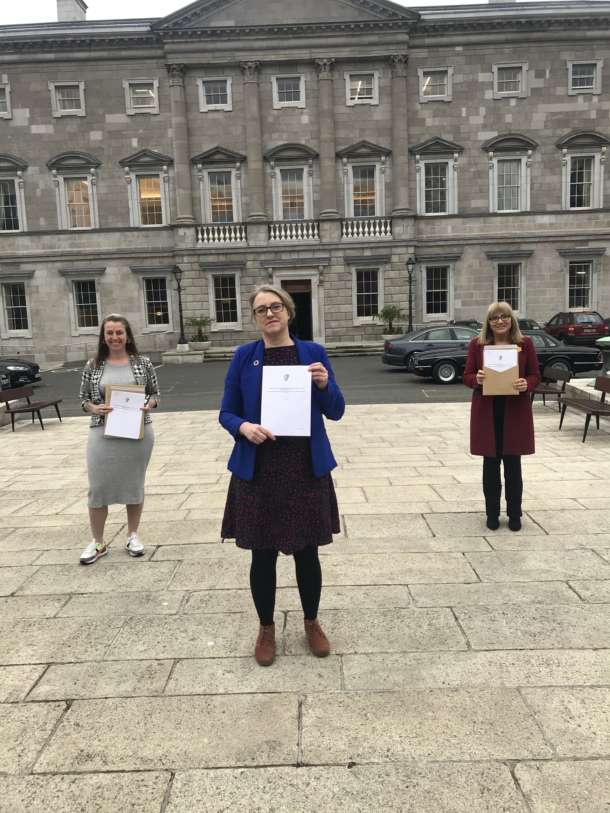 Today, Senator Alice-Mary Higgins launched her new 'Quality in Public Procurement' legislation. 
Ireland spends billions each year on public contracts for goods, services and works. The aim of the Bill is to deliver better outcomes from that spending by strengthening the role of quality in the procurement process.
There are four main aspects to the Bill:
(1) Currently when designing a call for tenders on goods, services or works, public bodies can select which procurement approach to use – they can decide to award a contract based on "price-only" (where the lowest bid gets the contract) or  they can award a contract using both price and quality criteria - "price: quality ratio". My legislation would seek to make a "price : quality ratio" approach the default and "price only" an exception. Public bodies might still choose to use 'price only' but they would have to publish an explanation. This model is currently used very successfully in the Netherlands and could help tackle the problems around 'low ball bidders' and associated 'supplementary claims'.   
2) When it comes to major national infrastructure, the Bill would set a minimum target of 50% quality criteria when awarding public contracts for projects above the EU works threshold of €5,350,000.   
(3) Quality criteria allow a Public Authority to recognise and reward good practice, high standards and good track records on timing and delivery. Greater use of quality targets can also help the state as a whole achieve more on environmental, employment and equality targets. This Bill provides for the publication of guidelines detailing relevant sustainability and social policy goals which a public body might choose to incorporate into the design of tenders.    
(4) The Public Duty on Human Rights and Equality under the 2014 IHREC Act applies not only to public bodies but also to their procurement contracts. This Bill would increase awareness of this obligation by referencing it in the annual procurement reports from public bodies. 
Speaking in advance of the Seanad debate this Friday 26 March, Senator Higgins said,
 "Each year the Irish State spends €12 billion on public procurement. We need to know that the public money we are spending is giving us the best possible results in terms of sustainability, the environment, employment, social impact, quality and delivery."
 "Controversy after controversy has shown that when we cut corners on procurement we pay a greater price in the long run. CervicalCheck is one example of a contract awarded solely on the basis of lowest price with no weighting for quality. My Bill would limit the use of this 'price only' approach and instead press Public Bodies to base their decisions on a 'price:quality ratio" approach where proper consideration is given to both price and quality. 
 "Similar legislation was introduced in the Netherlands in 2016 and it has been proven to achieve better outcomes and timely delivery at little or no additional cost. An increased weighting for quality also gives practical affect to some of the recommendations in the 2014 Review of the Performance of the Public Works Contracts."
 "When it comes to major national infrastructure, the stakes are even higher, which is why this Bill sets a minimum target of 50% quality criteria in awards for public works contracts over 5.35 million.
 "The contract for our National Children's Hospital was awarded 75% on price and only 25% on quality and as we know, over €300 million worth of additional contractor claims have since been lodged. This Bill would go a long way towards tackling problems like unrealistic 'low-ball' bids, by ensuring that the procurement process can instead recognise and reward companies, including SMES, with high standards and a good record of delivery."
 "The Bill will also require the Minister to publish guidelines on how environmental, employment and social policy commitments might be reflected in the design of calls for tender and it strengthens the links between procurement policy and the Public Duty on Equality and Human Rights."
  "Most importantly, this legislation seeks better results for the public, not only in terms of long term value for money, but also in terms of the actual quality of the collective goods, services and infrastructure that many of us will rely on and which can make such a difference in the daily lives of individuals, families and communities"
 "The Civil Engagement Group will be asking all parties to support the  'Quality in Public Procurement (Contract Preparation and Award Criteria) Bill 2021' when it is debated in the Seanad this Friday, 26th March."