Seanad amendment opens up long-overdue pathway to open adoption in Ireland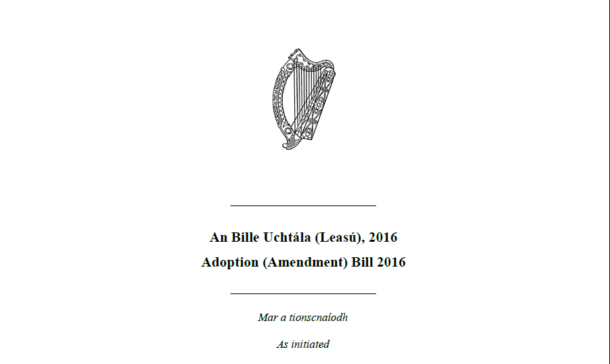 Many countries across the world have long seen open or semi-open adoption as an important option within any modern adoption system. However, Ireland has, to date, only ever allowed for closed adoption in which there are no formal or recognised ongoing connections between a new adoptive family, a birth parent and a child who is adopted.
Barnardos, the Care Leavers Network and many other advocacy groups and experts have long called for change in this area and it seems now that change may finally become possible.
A significant amendment to the Adoption (Amendment) Bill 2016, proposed by Independent Senator Alice-Mary Higgins, has successfully passed during report stage debate in the Seanad this week. The amendment, which was accepted by Minister Zappone, sets a legal deadline for a Government review and consultation around the potential introduction of open or semi-open adoption in Ireland. 
Speaking about the amendment, Senator Alice-Mary Higgins said "Closed adoption, with the associated severing of connection or communication, can make the decision to adopt, be adopted or consent to an adoption feel like a zero-sum game, something which can contribute to stress, guilt, grief and anxiety for all involved.
"Open and semi-open approaches can allow for greater transparency, exchange of information and even structured communication or regular contact where this is in the best interests of the child"

"The Constitution has sometimes been invoked as a defence of closed adoption – however as I argued in the Seanad, the Children's Rights Referendum of 2012 gave children their own rights under the Constitution - this includes the right to security, but it also includes the right to relationship and the right to identity.
"For example, although a birth parent may recognise that their child might receive better long term care with an adoptive family, it could still be in the best interest of the child for that former parent to maintain a meaningful relationship through structured communication. Or an uncle or grandmother in a child's birth family who, perhaps due to health constraints, may be unable themselves to foster or adopt that child, may nonetheless be very important ongoing contributors to the child's identity and wellbeing.  I believe open adoption could allow for more honest and compassionate recognition of the complexity of many family situations".


Many adoptive families currently have informal arrangements regarding contact with the birth parents, where they believe it is in the best interest of the child. However, there are no public supports or good practice guidelines around those arrangements and they have no legal status or security. An open or semi-open option could ensure that we are getting this right and giving everyone the post-adoption supports they need.

"There were already a number of positive and progressive elements in this Bill, but this amendment means we are also setting out a positive roadmap towards further progress."  concluded Senator Higgins. "This long-overdue policy review, will, I hope, help Ireland move away from the narrow and closed approach which has contributed to very poor practices, such as forced adoption, in the past,  and bring us into a more modern and compassionate era."

The Bill is expected to pass through final stage in the Dail before the summer.
—ENDS--
Notes to the Editor
Official amendment wording:
"Not later than 10 months after the passing of this Act, the Minister shall initiate a review and consultation in respect of the potential introduction of open or semi-open adoption in Ireland. Such a review shall include public consultation and legal policy analysis. A report on the findings of this review and consultation shall be laid before the Houses of the Oireachtas not later than 18 months after its initiation."