Newsletter January 2020
Dear Friends,
We are entering what many are calling 'the Decade of Action'. We have ten years to achieve the UN Sustainable Development Goals – an ambitious global blueprint for a positive shared future. We also have just ten years to limit the impacts of climate change.
As a long-time climate justice advocate and recent member of the Oireachtas Climate Action Committee, I have been pressing for investment in retrofitting, sustainable transport and a just transition. I have opposed plans to import LNG or fracked gas and fought to protect our peatlands and hedgerows.
The next ten years will see a transformation in the world of work and I have been a strong advocate for quality jobs and better policies around care. As a member of the Employment and Social Protection Committee I have challenged precarious employment while also promoting fairer pension policies and better supports for those parenting alone.
This decade must also deliver progress on gender equality. As a former policy coordinator with the National Women's Council and the first woman elected to the NUI panel in 35 years, I recognise the inequalities in so many sectors, but momentum for change is growing. In this newsletter, I focus on women's health and rights.
Quality public procurement, political reform, digital empowerment and online regulation are all part of shaping a better shared future. As an NUI Senator, I have also highlighted the positive role that universities can play if we invest more in public research and support greater diversity and financial security for staff and students.
To learn more about any aspect of my legislative or campaigning work or get involved, please do visit my website or contact me via social media, email or phone!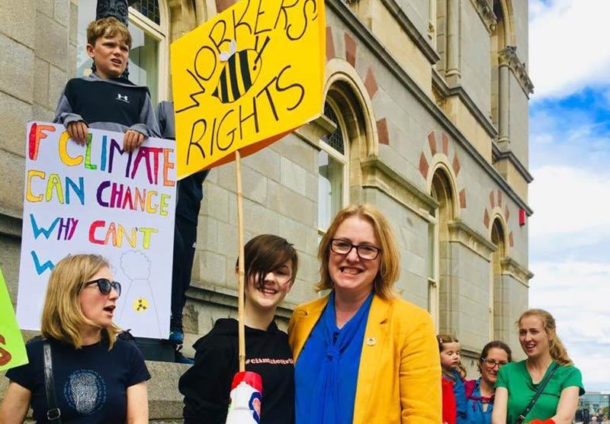 Climate Action and Biodiversity
A decade ago I travelled to the 2009 UN COP climate talks with Trócaire. Last December, at the latest COP talks in Madrid, I was disappointed to see that, ten years on, many countries and companies are still hiding behind excuses and evasions. However 'business as usual' is coming under increasing pressure from scientific evidence, environmental disasters and a new, powerful, wave of global youth activists. This can and must be the decade of action.
Ireland is one of the countries lagging behind and as a new member of the Oireachtas Climate Action Committee I have been engaging actively in the scrutiny of Government plans and targets. Since joining the Committee in September 2019, I have called for more ambitious emissions targets, pushed for investment in retrofitting and sustainable transport and strongly opposed plans to import Liquified Natural Gas. I have championed both climate justice and just transition, emphasising the need to support workers, vulnerable families and rural communities as well as those in developing countries who are already suffering damage from climate change. I have also consistently highlighted the links between biodiversity and climate. The dual crisis of climate change and ecological collapse was very evident during the recent Australian bushfires with their tragic loss of life and nature.
These dual concerns underpinned my recent opposition to the flawed 'Wildlife Bill' which could remove environmental protection from many raised and blanket bog heritage areas. Over many hours in the Seanad, I succeeded in winning small but important amendments, including new references to carbon storage and pollinator pathways and an audit of all current blanket bog heritage sites before any individual site can be considered for de-designation. Unfortunately, there were also some backward steps, with FG backbenchers winning an amendment which could lead to new golf courses on formerly protected bogs. This would be completely unacceptable at a time when our focus should be on restoring and rewetting as much peatland as possible.
For those who engaged with me around the 2016 battle against the Heritage Act, which extended cutting and burning of hedgerows and uplands with damaging implications for birds, bees and wildlife, there is some positive news. Following political and public pressure, the new Minister has now decided not to allow hedgecutting in August. However other aspects of the Act still need reversal.
Good Future Jobs 
In December 2019, I spoke at the launch of 'Ensuring Good Future Jobs' by TASC – the Think Tank for Action on Social Change. Their book explores the future of decent work in the context of just transition and a new digital landscape. In my speech I discussed gender equality, sustainable development, the importance of innovative public research and the need to ensure that both care and ecological care become quality areas of secure employment.  
This was a follow up to my introduction to a previous TASC report on 'Living with Uncertainty' in 2018. That report looked at how the recession was used by some sectors as an opportunity erode workers' rights and highlighted the impact of insecure working conditions on individuals and society.
In the Seanad, and as a member of the Joint Committee on Employment and Social Protection, I have been an active supporter of workers' rights and of progressive legislation around employee tips, joint labour committees and collective bargaining. Unions play an important role in society, and, having long sought the restoration of tax relief on union subscriptions, I was happy to see recent progress on this issue. One key focus of the Joint Committee has been the situation of workers who are forced into false self-employment with short-term, insecure contracts. We will soon be publishing a report with strong recommendations on how this issue should be tackled.
Women's Health and Rights
In November, I joined 200 Parliamentarians and 9,000 advocates, health experts, youth activists and community representatives from around the world at a giant global meeting on women's health and rights. The Nairobi Summit marked 25 years of ICPD, the International Convention on Population and Development, and brought together diverse voices with a shared commitment to ensuring safe access to sexual and reproductive health and rights for everyone, everywhere. Topics discussed included family planning, maternal mortality, universal healthcare, FGM and violence against women.
Having first marched for Repeal in 1992 and played an active role in the Repeal the 8th Coalition and Together for Yes campaign, I believe it is important that Ireland now offers international solidarity to civil society and parliamentarians across the world who are trying to introduce more progressive access to reproductive rights. The recent changes in Northern Ireland are to be welcomed but women still face obstacles in many countries. 
I was honoured to be elected to the Executive of the European Parliamentary Forum (EPF) on Sexual Health and Reproductive Rights and have worked actively with them to promote positive policies and challenge recent rollbacks on women's rights. At the Nairobi Summit I was pleased to help launch a new, even wider, global initiative: the Global Parliamentary Alliance for Health, Rights and Development (GPA) which will allow parliamentarians from around the world to support each other by working for human rights, better health care and gender equality with a strong focus on the Sustainable Development Goals (SDGs). 
Here in Ireland, I am working with others to improve access to family planning and school sex and relationship education. I have also, for many years, fought for better supports for those parenting alone. In October, I won an amendment to the Social Welfare Bill to review the anomaly whereby targeted supports for working lone parents end when their child turns 14, an age where costs often increase.
Community Participation and Disability 
Last year I was proud to co-sponsor Senator John Dolan's Community Participation (Disability) (Miscellaneous Provisions) Bill 2019 which proposed practical measures to support greater public participation for people with a disability, including more inclusive and accessible playgrounds, changing facilities and bus-routes.
Tide Turns on Microbeads!
In 2016 the bill to ban microbeads which myself, Grace O Sullivan and Lynne Ruane proposed in the Seanad was blocked. Three years later, following greater global awareness thanks to programmes such as blue planet, I was glad to see the Government publish and pass its own legislation to tackle microplastics. Hopefully they will also take forward our related proposals to increase the number of Marine Protected Areas in Ireland!
Digital Empowerment and Online Regulation
Just 48% of the Irish population are 'digitally literate' - holding basic internet skills. This is far lower then the EU average of 57% and there is clearly a digital divide which needs to be addressed. It is also important that people in Ireland are supported to become active agents rather than passive targets online. They should, for example, be able to protect their personal information under EU data protection rules (GDPR). It is also worth noting that, because so many major tech companies are based in Ireland, enforcing their compliance with GDPR is our responsibility. I would like to see 20% of the potentially substantial fines likely to be collected under GDPR ringfenced for positive Digital Empowerment initiatives such as web accessibility, community hubs, Silver Surfer classes, coder dojos and online safety training. Empowerment should include education to identify and avoid manipulation and misinformation.
Education must be accompanied by stronger regulation and legislation in areas like online advertising, algorithmic transparency and microtargeting. Having spoken on big data at the World Forum on Democracy and a gathering of US Attorney Generals, I recently joined a special Irish sitting of the International Grand Committee on Disinformation and Fake News where we discussed practical measures to limit electoral manipulation and misinformation.
Unfortunately, the state's credibility as a data regulator is undermined when it does not hold itself to high standards. During the 2017 debate on the Data Protection Act, I succeeded in ensuring that public bodies who break the rules would not be exempt from penalties. However it has been disappointing to see that the Government response to a critical Data Protection Commission report on the Public Service Card has been to fight the findings rather then comply with them. I was one of those who had flagged legal concerns around PSC to Minister Doherty over a number of years, because if you process the personal information of millions of people it is important to do it right. Post-Brexit data transfer between the UK and the EU is another area that will require careful thought.
Brexit enters its next phase
Unfortunately, the UK will formally withdraw from the EU this January and phase two of talks on a possible future relationship or trade agreement between the EU and the UK will soon begin. This is the moment for political engagement around the new negotiating mandate which the EU Council will shortly give to the EU Commission. Protection of the Good Friday Agreement including its commitments on Human Rights, will of course be essential. However, Ireland must also advocate for strong environmental or employment standards to avoid any race to the bottom. It is I believe, particularly important that any new trade deal does not include investor courts which might allow UK companies to sue the Irish state or chill positive future regulation.
Adoption Review
Three years ago, I won an amendment to the Adoption (Amendment) Bill 2016 which required the Minister to review how Ireland might move towards more transparent adoption policies based on the child's right to security, identity and relationship. The results were published in November and they recommend the introduction, for the first time, of supports for children, adoptive parents and birth families who wish to enter into voluntary post-adoption contact arrangements. The review also recommends provision of new post-adoption counselling. I will be pressing for action to implement these recommendations while also working to support improved access to rights and information for those adopted in the past.  
Working for Peace and Human Rights 
Throughout 2019, I hosted and met with many human rights advocates including groups supporting transition to civilian-led government in Sudan, activists from Colombia, NGOs involved in search and rescue in the Mediterranean and international peace protestors. 
As Chair of the Oireachtas group on Peace, Neutrality and Disarmament, I believe Ireland's best contribution to multilateralism is as a trusted advocate for peace and a champion of disarmament. We should not compromise that role through participation in PESCO or military stopovers in Shannon. Now more than ever Ireland should be a global voice for peace.
Quality in Public Procurement – Update on Legislation
Every year, the Irish State spends €12 billion on 'public procurement' contracts for goods, services and infrastructure. Too often, contracts are awarded to the lowest bidder without enough consideration for quality or long-term impact. Whenever we spend public money we need to ensure it is giving us the best results – and that means thinking it through in terms of environment, equality, employment, human rights and social impact.
Last year I introduced a Private Members Bill to promote quality in public procurement which has successfully passed Second stage and should go on to Committee Stage this January.
There continue to be regular controversies that highlight the need for reform and my Bill could reduce the danger of underbidding and its sometimes tragic consequences by making 'lifecycle costing' or 'price-quality ratio' the default options in all procurement. It is important to note that 'price -quality' ratio doesn't automatically mean more expensive. It simply means that both price and quality should be considered. It also allows us to recognise and reward good practice in areas like equality, employment and sustainability. State bodies who choose to award a contract based on price alone would have to explain that decision, making 'lowest price only' the exception rather than the rule.
For capital projects such as those in the National Development Plan, the bar must be set even higher. The National Children's Hospital tender gave a 75% weighting to 'price', with spiralling cost and problems down the line. My Bill would seek to make quality at least 50% of the weighting when awarding major national contracts. When it comes to such once-in-a generation projects, we simply cannot afford to get it wrong.
Driving Seanad Reform
It is over 40 years since the public voted to extend the university franchise in the 1979 referendum and I believe the 2013 referendum also sent a clear mandate for reform. Many value the work of the Seanad but want a more active say in shaping that work. On the first sitting day of the 25th Seanad in 2016, I proposed a Seanad Reform Bill along with ten other Senators. In response to this pressure, the Taoiseach set up a cross-party group to develop legislation based on the 2015 Manning Report. 
Following nine months of work, our Seanad Reform Implementation Group sent the Taoiseach a fully-drafted Bill which would deliver practical reforms including widening of the university panel to all third-level institutions and universal suffrage so every citizen has the chance to vote in Seanad elections. However the Government have stalled progress on this cross-party legislation.
The Seanad Civil Engagement Group 
Senator Alice-Mary Higgins leads the Civil Engagement Group in the Seanad. This group has had a powerful impact in the chamber, in committees and in the wider community. Senators Alice-Mary Higgins, Lynn Ruane, Frances Black, John Dolan, Colette Kelleher and Pippa Hackett all have independent voices but work closely together. They have helped shape political debate, won over 50 amendments to legislation and brought forward a number of Bills, three of which have already passed all stages in the Seanad; 
• The Control of Economic Activity (Occupied Territories) Bill – led by Senator Frances Black
• The Family Reunification Bill – led by Senator Collete Kelleher
• The Traveller Culture and History in Education Bill – led by Senator Collete Kelleher
• The Criminal Justice (Rehabilitative Periods) Bill – led by Senator Lynn Ruane
• The Community Participation (Disability) (Miscellaneous Provisions) Bill – led by Senator John Dolan
• Two further Bills, on Microplastics and Vacant Sites were blocked initially in the Seanad but ended up shaping subsequent Government legislation